ICOM Energy Association unveils new website (03/10/13)
ICOM (Industrial & Commercial Energy Association) has launched a new website at www.icome.org.uk, providing useful information for members and non-members.
Visitors to the site have access to the latest news about ICOM, along with updates on key developments and legislation relating to the energy sector. In addition, the site provides a register of members, accessed by name or market sector, which is available to non-members.
The 'members only' area also contains downloads of key documents, including newly issued regulations, information and consultation documents and copies of presentations. Members can also access details of forthcoming meetings, register their attendance online and add agenda items.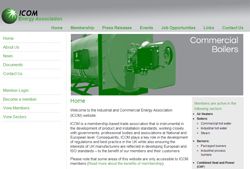 ICOM director Ross Anderson said: 'This is the just the first phase of an ongoing development programme for the website. We have ambitious plans to extend its functionality, exploiting the latest communication technologies to provide a wider range of services to all visitors.'
Originally appeared in Heating and Ventilating Review.