Best practice water treatment for commercial heating systems (Apr 2017)
A recently launched guide to the treatment and conditioning of commercial heating systems is designed to provide step-by-step guidance for plant operators, engineers and others involved in the maintenance and operation of heating systems. Ross Anderson, Director of *ICOM, explains
Whilst water treatment of domestic heating systems is well-established, this has not been the case for commercial wet heating systems. As a result, such systems have frequently suffered from problems related to fouling, biofouling, corrosion and limescale – leading to problems of energy wastage, poor system performance and the need for early replacement of central plant and other components. Thus, the consequences of inappropriate or non-existent water treatment can prove costly to rectify, as well as contributing to inflated lifecycle costs.
These concerns have led boiler manufacturers and water treatment companies to come together under the auspices of the ICOM Energy Association to produce a comprehensive guide to the importance of, and procedures required, for effective water treatment.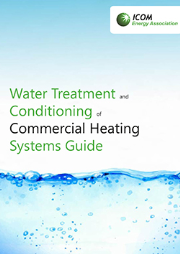 The Water Treatment and Conditioning of Commercial Heating Systems Guide
Crucially, the tone and language of the new guide is aimed at those who do not have specialist knowledge of water treatment chemistry, helping them understand what effect the water and its subsequent treatment will have on the heating system. It also explains how to prevent issues from occurring in the first place.
The 'Water Treatment and Conditioning of Commercial Heating Systems Guide' was launched at an event at the end of March, where a number of presentations considered the various aspects of water treatment.
One key point noted was that commercial heating systems now incorporate a much wider range of materials, compared to older systems, and operate with lower flow rates and higher pressure drops. This combination of factors makes commercial heating systems more vulnerable to water quality issues, thereby increasing the requirement for effective water treatment.
From design to operation
The content of the 60-page guide is designed to cover every aspect of water treatment, from design considerations for new systems through to analysing the water in existing systems and taking appropriate remedial measures where necessary.
It emphasises the importance of considering water treatment at the early design stage and communicating the design intent to the installer. The guide also notes that system designers have an opportunity to assess suitable water treatment methods from the outset, based on the specified mechanical equipment and pipework for the project. It recommends that advice from water treatment specialists and manufacturers is incorporated into the written specification to ensure the design intent is not lost.
For existing systems, the guide stresses the importance of establishing the water volume of the system so the correct proportions of treatment can be formulation. It also notes the need to carry out chemical analysis of the water in existing systems as this will impact on the most appropriate corrective actions.
The most prevalent factors influencing the quality of heating system water are oxygen content, total hardness, conductivity, suspended solids, total metals, chlorides, settled sludge, sulphate, microbiological activity and pH. Given this complexity, input from water treatment specialists is strongly recommended.
The guide goes on to detail each step required for effective water treatment, from initial cleaning (including cleaning methodologies) and flushing to suitable ongoing treatment. It also considers issues such as methods of system fill and water types (including the use of demineralised, reverse osmosis or softened water). Pressurisation, de-aeration and filtration are also covered.
Summary
The publication of a guide to water treatment for commercial heating systems that brings boiler manufacturers and water treatment specialists together is a significant milestone for the industry.
Pete Mills, Commercial Technical Operations Manager at Bosch said: "This should be seen as an important milestone for the industry and we hope the standard is widely adopted within specifications, which should help to drive improvements in heating system reliability and efficiency."
Ideal Commercial Boilers Product Manager, Andrew Dabin, agreed: "This guide makes it clear plain and simple as to what is required."
Mick Casey of Deep Blue Water added: "This is a very important step in providing a best practice guide for those involved in water treatment of commercial heating systems. In doing so, it will also help to drive improvements in reliability and efficiency for end users whilst also reducing their lifecycle costs."
To request a PDF or hardcopy of the 'Water Treatment and Conditioning of Commercial Heating Systems Guide', please contact info@icom.org.uk.
*ICOM Energy Association is a not-for-profit members' organisation, representing the UK commercial and industrial heating equipment manufacturers.